Tone Muscle, North Carolina
Bring out the best in your musculature with toned, strong and visible muscles after CoolTone.
Here at Cool Renewal Spa, we want to show our North Carolina clients results! One of the hardest things about taking care of our bodies is recognizing that there are times when the best diets and exercise aren't going to work- sometimes we need a little jolt to get progressing along once more. If you are healthy, exercising and not seeing the muscle tone that you know exists under your skin, then we are here to help with the services that will bring these changes to the surface, including our new service: CoolTone.
Male Abdomen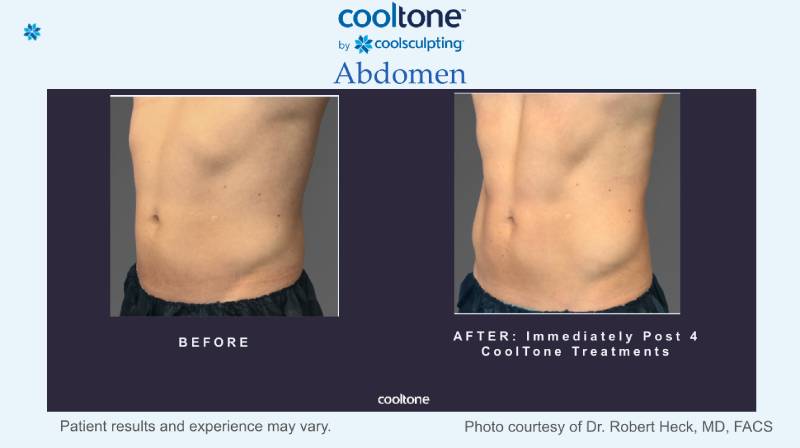 Female Abdomen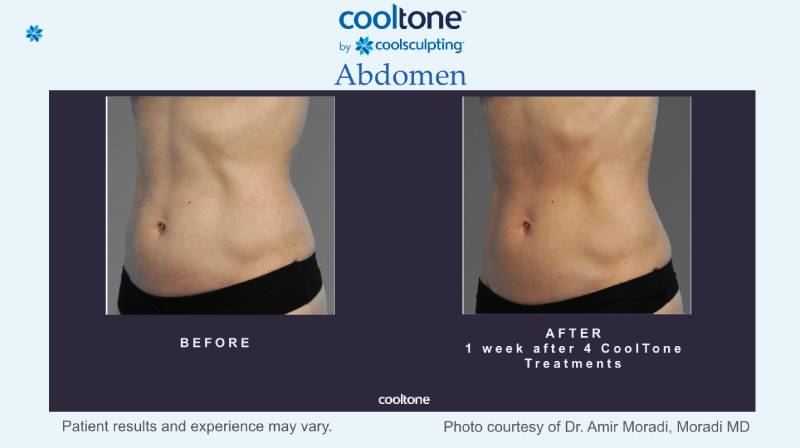 Unlike other services that target the fat layers, CoolTone actually penetrates right through your skin and fat, targeting only the small, microscopic fibers in your muscles to contract quickly. These muscle contractions are stimulated via supramaximal muscle contractions and magnetic muscle stimulation (MMS) mean that your muscles in your most problematic areas like buttocks, thighs or stomach can become stronger and more prominent in a short amount of time- sometimes days! If you've ever wanted to tone those troublesome areas, then CoolTone is the type of targeted treatment you've been looking for!
At Cool Renewal Spa, we want to help our clients feel comfortable and at ease with our services. We are happy to tell you the process, how many appointments you might need or other information during a consultation. If you have questions about CoolTone or if you are a good candidate for this type of service, please give us a call! We are happy to answer your questions or schedule a consultation.
---
At Cool Renewal Spa, we offer CoolTone body sculpting to residents of Charlotte, Hickory, Lake Norman, Rock Hill, Mooresville, Cornelius, Huntersville, Pineville, Matthews, and the rest of North Carolina.
HOW COOLTONE WORKS
| | |
| --- | --- |
| | CoolTone's Magnetic Muscle Stimulation, or MMS technology, penetrates through the skin and fat layers to target only the muscle layer, inducing involuntary muscle contractions. |
| | The body's response to these contractions is to strengthen its muscle fibers, resulting in improved muscle conditioning. |
| | After treatments, abdomen, buttocks, and thighs are firmer and have a more defined and toned appearance. |
---
THE NEXT DIMENSION IN BODY CONTOURING
Similar Services We Offer: