CoolTone is a treatment that can tone, firm, and strengthen the muscles.
When you work hard to maintain a healthy body weight, it is frustrating when certain areas simply don't respond to diet and exercise. You might have problem areas around your abdomen, especially if you have had children, or you could have other parts of the body that simply don't change, regardless of your lifestyle changes. At Cool Renewal Spa, we understand this frustration and want to help you achieve your goals through a non-invasive procedure. We provide two main body contouring options: CoolSculpting and CoolTone.
Male Abdomen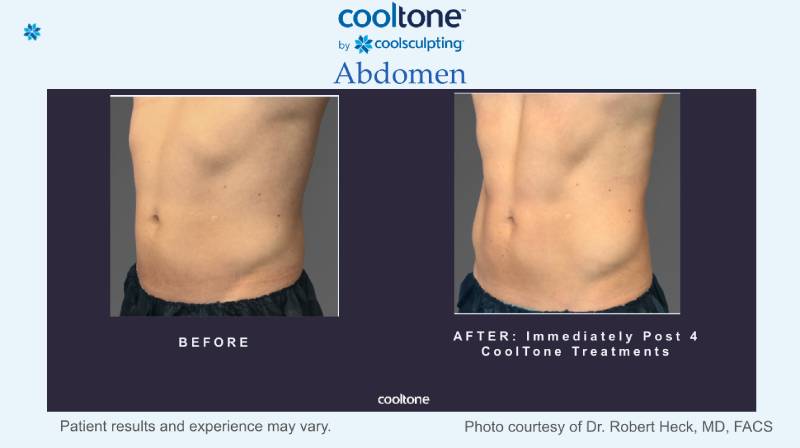 Female Abdomen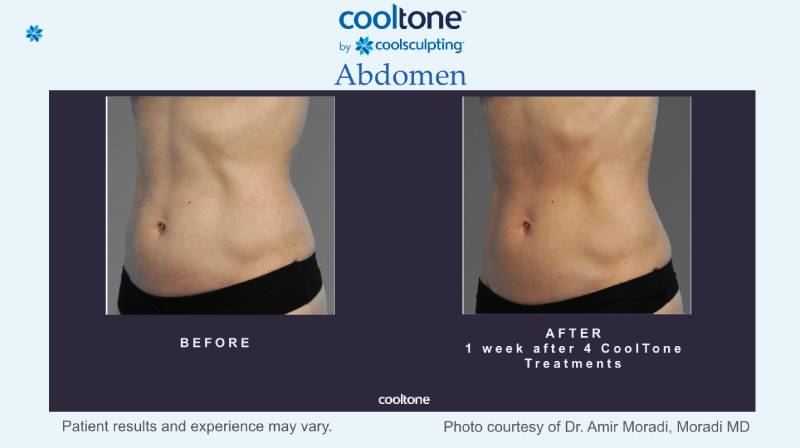 CoolTone is a treatment that uses Magnetic Muscle Stimulation (MMS) to tone, firm, and strengthen the muscles in certain areas of the body. The technology behind this procedure is known as Active Magnetic Pulse (AMP), and it can tone muscles from the outside in. CoolTone is cleared by the FDA when used on the abdominals, buttocks, and/or thighs. It was developed by experts in muscle science and informed by leading athletes and their performances. When done properly, AMP patterns can warm up and strengthen muscles while also contributing to their active recovery.
You might be a candidate for CoolTone if you live an active lifestyle but can't achieve the muscle tone and strength you want through physical activity alone. We can also talk to you in more detail about the procedure and whether it would be a good fit for you during a personalized no-risk consultation. If you'd like to learn more about this muscle toning and strengthening procedure, contact us today to schedule a consultation.
---
At Cool Renewal Spa, we offer CoolTone body sculpting to residents of Charlotte, Hickory, Lake Norman, Rock Hill, Mooresville, Cornelius, Huntersville, Pineville, Matthews, and the rest of North Carolina.
HOW COOLTONE WORKS
| | |
| --- | --- |
| | CoolTone's Magnetic Muscle Stimulation, or MMS technology, penetrates through the skin and fat layers to target only the muscle layer, inducing involuntary muscle contractions. |
| | The body's response to these contractions is to strengthen its muscle fibers, resulting in improved muscle conditioning. |
| | After treatments, abdomen, buttocks, and thighs are firmer and have a more defined and toned appearance. |
---
THE NEXT DIMENSION IN BODY CONTOURING
Similar Services We Offer: