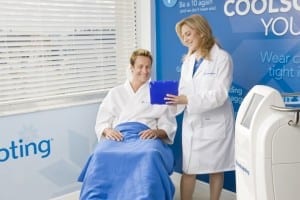 Perhaps you've heard of the new procedure for fat reduction known as CoolSculpting.  In fact, if you've done some research on it, the prospect may seem enchanting.  Get rid of unwanted fat by freezing it?  Lose excess fat and enjoy a spa experience at the same time?  Work on two areas at a time in approximately an hour–what more could you ask for?
If the idea of CoolSculpting is appealing to you, the next step is to come in to Cool Renewal Spa for a body sculpting consultation.  Body sculpting consultations are beneficial because they help to target your specific needs and to put in place a plan of action for successful fat reduction.  Body sculpting consultations also allow us to answer any questions that you may have regarding the CoolSculpting process.  We will sit down with you and learn what results you wish to achieve.  Once we know your target areas, we can develop an individualized plan for you and explain the procedure in more depth.  On the day (or days) of your procedure, you can enter our spa knowing exactly what to expect from your time here.  This will allow you to relax and enjoy the experience each time you come.
At Cool Renewal Spa, we want you to feel confident in the CoolSculpting procedure before having it done.  If you are interested in learning more, contact us today and we can set up a body sculpting consultation for you.  Let us help you achieve a more contoured body the simple way.