"Fat reduction" and "spa experience" aren't normally words you would expect to hear in the same sentence.  In fact, when they do occur together, it may seem like a bit of an oxymoron.  Outside of diet and exercise, liposuction has been the most common form of fat reduction.  And you know that there is nothing spa-like in a liposuction procedure.  In fact, if you are considering liposuction, you may be feeling a certain amount of added stress in your life.  The good news is that there is a relatively new way of reducing fat that can be done in a more relaxed environment—thus making it feel more like a spa experience.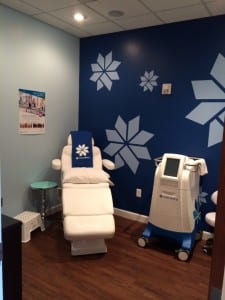 This new procedure is called CoolSculpting.  It can be accomplished in approximately an hour.  There is no surgery involved, which means no anesthesia, no incisions and no time to heal is required.  In fact, the procedure is so simple that you can relax in a myriad of ways while we remove persistent fat that in the past has seemed nearly impossible to lose.  Some ways you can relax include: reading your favorite literature, watching a movie, using the internet for browsing, shopping or chatting with friends or even take a nap while the CoolSculpting process is taking place.  CoolSculpting has truly revolutionized the process of fat reduction.
Cool Renewal Spa is pleased to offer CoolSculpting services.  Using "fat reduction" and "spa experience" in the same sentence no longer needs to be contradictory.  If you have areas of stubborn fat, contact us.  Let us help you to have an enjoyable spa experience during the CoolSculpting process.  Once the procedure is finished, you will leave our spa looking slimmer and yet feeling relaxed.