COOLSCULPTING, CHARLOTTE NC
Create Your Own Ladies' Day Out!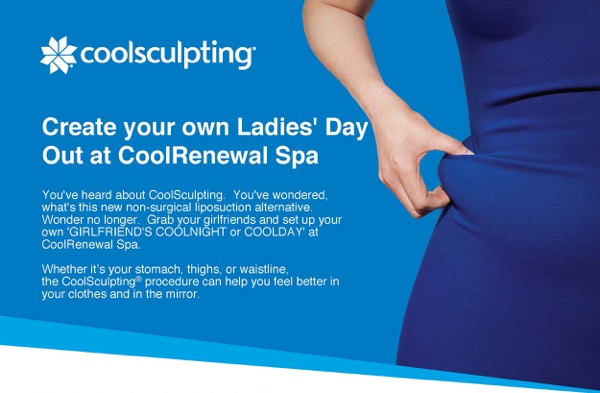 You've heard about CoolSculpting.  You've wondered what is this new non-surgical liposuction alternative.  Wonder no longer.  Grab your girlfriends and set up your own "Girlfriends CoolNight or CoolDay" at Cool Renewal Spa.
Cool Renewal Spa in Charlotte has put together a wonderful new program for you and your friends to learn all about the new CoolSculpting procedure.  We'll block a time for you and your friends to come to Cool Renewal Spa and spend 30 min to an hour learning about the procedure together.  We'll have our CoolSculpting Technicians available to offer free body assessments to see if you are all good candidates for the procedure and best of all we'll offer special discounts on the CoolSculpting treatment exclusively for you and your friends.
Here is a step by step detail of how to put together a CoolSculpting Ladies' Day Out:
Talk to your friends and see who has an interest in losing stubborn fat.
Pick a day and time frame that you would like to have everyone visit the spa.
Call Cool Renewal Spa with the names, email addresses and phone numbers of each person in your group.
Block out your appointment time with Cool Renewal Spa.
We'll see you here, with a glass of wine waiting!
This is a great way to get out with your girlfriends and have everyone learn about CoolSculpting at one time.  Your group will be the only group at the Spa during your specific date and time.  Laugh, learn and enjoy special exclusive CoolSculpting discounts for your group.
Call Cool Renewal Spa today for more details and to set up your Ladies' Day Out with CoolSculpting!
| | |
| --- | --- |
| | Many of us have bulges of stubborn fat. |
| | Those unwanted bulges contain fat cells, which can be resistant to diet and exercise. |
| | Coolsculpting uses controlled cooling to target and crystallize fat cells. |
| | Crystallized fat cells gradually die, and are naturally reduced from your body. |
| | In the weeks and months following treatment, the remaining fat cells condense, reducing the fat layer. |
| | Coolsculpting lets you say goodbye to stubborn fat without surgery. |
---
Real patients discuss their experiences with CoolSculpting