Tone Muscle, Mooresville, NC
CoolTone can help you find the muscular tone you know you have and show it off!
Eating right and exercising is important to your overall health. Unfortunately, sometimes eating right and exercising, even vigorous and tough exercising, is not enough to get the results you know are hiding under layers of fat and skin. If you have stubborn fat pockets in the thighs, abdominals, buttocks or around your upper arms, take comfort- you are not alone. Here at Cool Renewal Spa Lake Norman, we have a revolutionary new procedure that we know will be of help you to: CoolTone.
Male Abdomen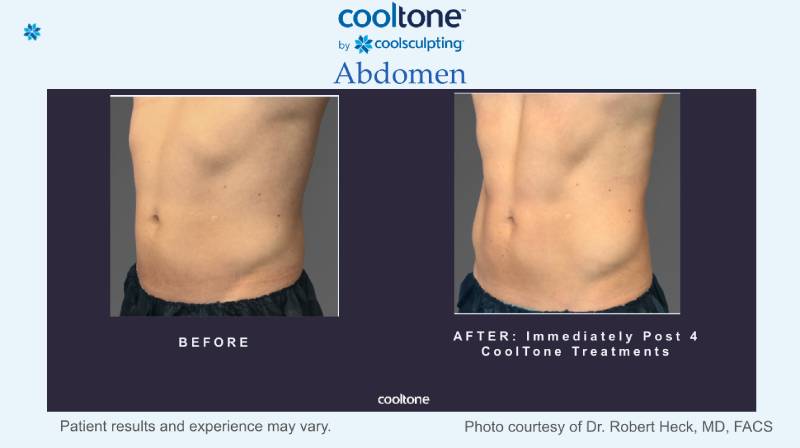 Female Abdomen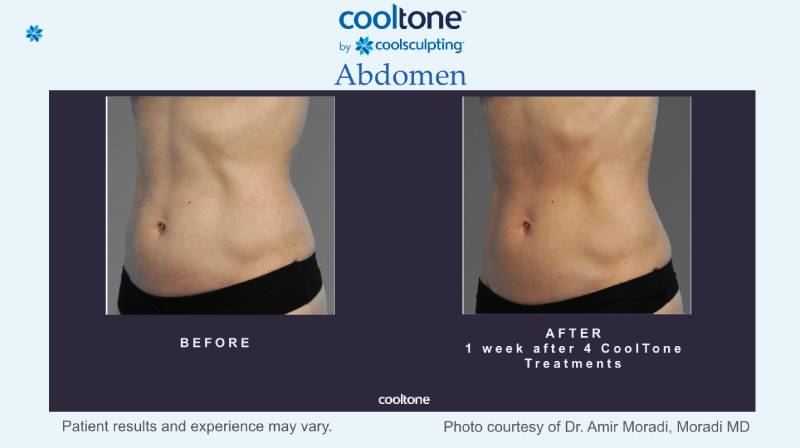 CoolTone is so great because it works in a non-invasive fashion. There is no surgery and very little downtime. Instead, what you get are noticeable results after only a few sessions. CoolTone works with magnetic technology that is called Magnetic Muscle Stimulation or MMS. This technology easily bypasses the skin and fat layers, targeting the musculature underneath. These magnetic stimulatory waves cause your muscles to contract very quickly, creating more muscular strands and tighter, stronger muscles than you could ever get in a standard workout. Once the treatments are finished, you will have stronger muscle tone, which smooths and lifts the appearance of your muscles.
While the time amounts vary depending on how many areas of the body we work on, a singular treatment is usually around 30 minutes. These cost- and time-effective options that you get with CoolTone are able to get you the results you've been looking for. To learn more about CoolTone in the Mooresville, North Carolina area, please give us a call today for an appointment.
---
At Cool Renewal Spa, we offer CoolTone body sculpting to residents of Charlotte, Hickory, Lake Norman, Rock Hill, Mooresville, Cornelius, Huntersville, Pineville, Matthews, and the rest of North Carolina.
HOW COOLTONE WORKS
| | |
| --- | --- |
| | CoolTone's Magnetic Muscle Stimulation, or MMS technology, penetrates through the skin and fat layers to target only the muscle layer, inducing involuntary muscle contractions. |
| | The body's response to these contractions is to strengthen its muscle fibers, resulting in improved muscle conditioning. |
| | After treatments, abdomen, buttocks, and thighs are firmer and have a more defined and toned appearance. |
---
THE NEXT DIMENSION IN BODY CONTOURING
Similar Services We Offer: