Tone Muscle, Lake Norman, NC
CoolTone was developed by Allergen, the same company that developed CoolSculpting.
At Cool Renewal Spa, we are dedicated to providing you with cutting-edge technology to achieve the sculpted body that you envision. To that end, we are excited to bring you CoolTone™, which helps you achieve muscle definition by delivering supramaximal muscle contraction through high-intensity, high-frequency pluses. In addition to improving muscle mass and firmness, CoolTone also stimulates circulation and collagen production. When CoolTone is performed on the abdomen, it has the added effect of improving your buttocks and thighs for a firmer and more defined appearance.
Male Abdomen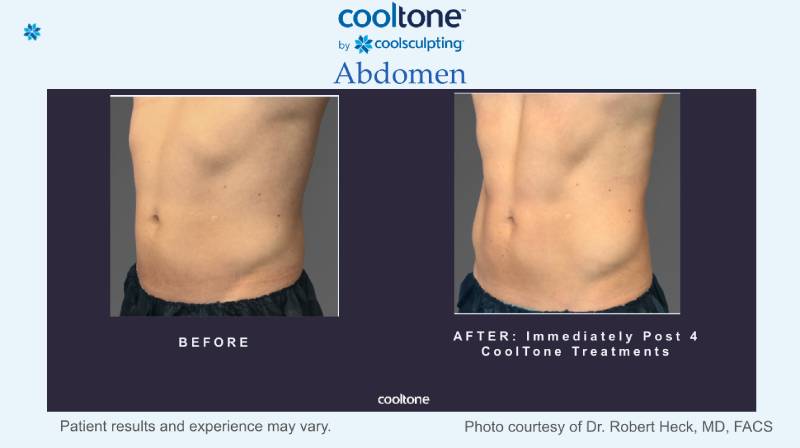 Female Abdomen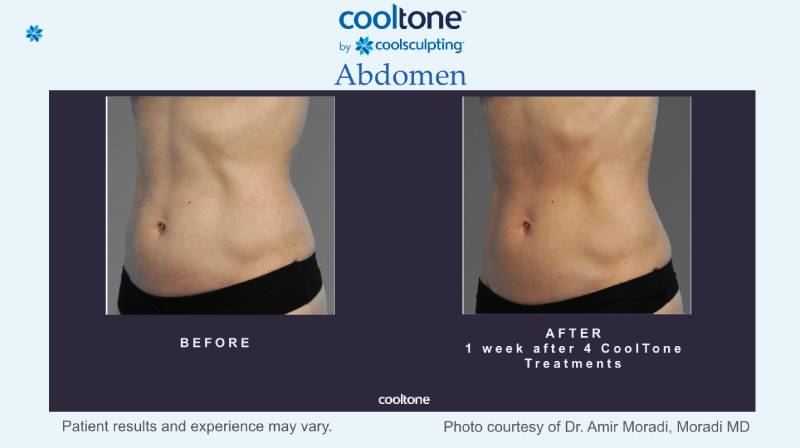 During your initial consultation, we'll assess whether you are a candidate. Other than those with pacemakers and certain implanted medical devices, most people in good general health can benefit from this treatment modality. CoolTone was developed by Allergen, the same company that developed CoolSculpting, which we also offer. Both of these treatments work to sculpt the body; they just do it in different ways.
You can enjoy long-lasting results from CoolTone, which is done in a series of 30-minute treatments over two or more weeks depending on your goals. The only discomfort you will feel is a bit of muscle soreness, comparable to doing a strong workout. There is no downtime, so you can go back to your daily activities in the Lake Norman, North Carolina area after each treatment.
If you would like to learn more about non-invasive techniques for getting the body contours you envision, give us a call today to schedule a complimentary consultation to discuss CoolSculpting and CoolTone.
---
At Cool Renewal Spa, we offer CoolTone body sculpting to residents of Charlotte, Hickory, Lake Norman, Rock Hill, Mooresville, Cornelius, Huntersville, Pineville, Matthews, and the rest of North Carolina.
HOW COOLTONE WORKS
| | |
| --- | --- |
| | CoolTone's Magnetic Muscle Stimulation, or MMS technology, penetrates through the skin and fat layers to target only the muscle layer, inducing involuntary muscle contractions. |
| | The body's response to these contractions is to strengthen its muscle fibers, resulting in improved muscle conditioning. |
| | After treatments, abdomen, buttocks, and thighs are firmer and have a more defined and toned appearance. |
---
THE NEXT DIMENSION IN BODY CONTOURING
Similar Services We Offer: