Tone Muscle, Hickory, NC
Bring tight, firm muscles to the surface with the help of CoolTone.
When you spend time in the gym and make the right choices when it comes to food, you want to see those results showcased in the form of smooth, even and strong muscles. However, when these muscles are not coming to the surface, you might feel disconcerted or even saddened that you feel better than you look on the outside. Here at Cool Renewal Spa, we want to help people feel their most confident. We work with people often who are tackling the gym and still not seeing their muscle tone improve properly. For these people, we offer CoolTone.
Male Abdomen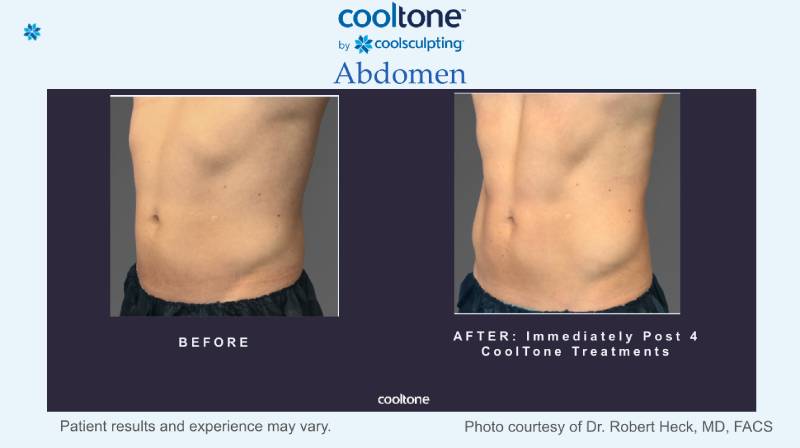 Female Abdomen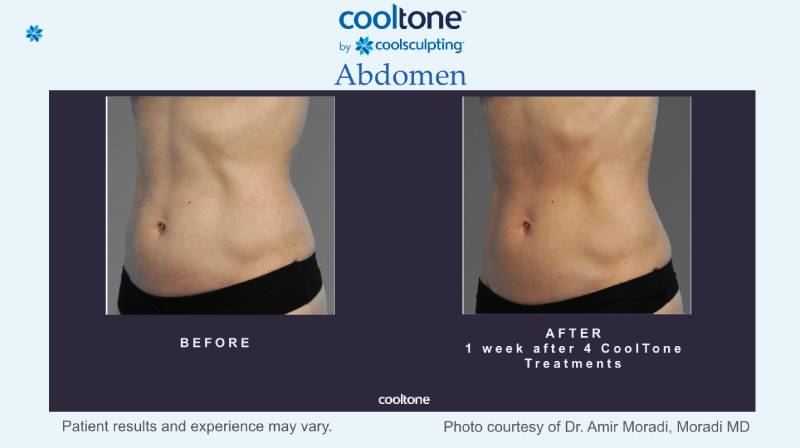 While you might feel the pressure to "feel the burn" at the gym, here at Cool Renewal Spa, we want you to feel the effectiveness of our CoolTone procedures. Using non-invasive and non-surgical methods, CoolTone uses magnetic waves that stimulate muscle contractions very rapidly. In response to these contractions of your muscle fibers, your body will react by making stronger, leaner and longer fibers. These often come to the surface and allow you to show off areas that you might otherwise feel self-conscious about.
With CoolTone, you can spend your time showing off your self-confidence in the Hickory, North Carolina area rather than hiding indoors. Each treatment takes around 30 minutes, or a bit longer if you are looking to work on more than one area in a treatment time. Get the results that you have been looking for in firmer thighs, belly, buttocks and other areas of your body without feeling like you need to live at the gym. To learn more about CoolTone, make an appointment with us at Cool Renewal Spa today!
---
At Cool Renewal Spa, we offer CoolTone body sculpting to residents of Charlotte, Hickory, Lake Norman, Rock Hill, Mooresville, Cornelius, Huntersville, Pineville, Matthews, and the rest of North Carolina.
HOW COOLTONE WORKS
| | |
| --- | --- |
| | CoolTone's Magnetic Muscle Stimulation, or MMS technology, penetrates through the skin and fat layers to target only the muscle layer, inducing involuntary muscle contractions. |
| | The body's response to these contractions is to strengthen its muscle fibers, resulting in improved muscle conditioning. |
| | After treatments, abdomen, buttocks, and thighs are firmer and have a more defined and toned appearance. |
---
THE NEXT DIMENSION IN BODY CONTOURING
Similar Services We Offer: