We are the best place for Hickory residents to go to reduce love handles.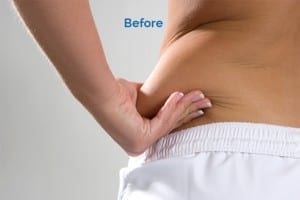 Why are they called love handles when nobody loves having them? Perhaps it is because you love it when you can get rid of them! At Cool Renewal Spa, we have the easiest method for doing just that. With our CoolSculpting process, you can say goodbye to those love handles and feel confident putting on that two-piece swimsuit this summer.
Our process to reduce love handles uses Cryolipolysis™ fat-freezing technology. This effectively kills unwanted fat cells, so your body can eliminate them. This FDA-cleared alternative to liposuction is a welcome treatment for those wishing to forego the incisions and recovery time. Not only can we reduce love handles, but we can also help you get rid of other stubborn pockets of fat. With our ability to do DualSculpting, we can cut treatment time in half, since you can have two areas taken care of at one session.
At Cool Renewal Spa, we focus specifically on this amazing fat elimination method, so you can be sure that you are getting dedicated and trained CoolSculpting technicians. We put that together with a spa environment that affords you a relaxing and enjoyable experience.
If you have questions about this amazing technique that will reduce love handles and more, give us a call. We'll be happy to schedule a free consultation for you, so we can answer your questions and explain more thoroughly how CoolSculpting works and why it is the best way to eliminate stubborn fat without diet, exercise, pills or fads that do not work. We are just a short drive from Hickory, North Carolina, so come see us today!
---
At Cool Renewal Spa, we can help you get rid of love handles in Hickory, Charlotte, Lake Norman, Rock Hill, Mooresville, Cornelius, Huntersville, Pineville, Matthews, and the rest of North Carolina.